Big girl artwork including sport girls, adidas babes, schoolgirls, morphs, and others.


Read stories about chicks who pack on the pounds in the right places.


Seen a spectacular babe somewhere? Let everyone else know about it here.


Discuss the finer points of unusually large babes here.


Links to other sites dealing with bigger than average chicks.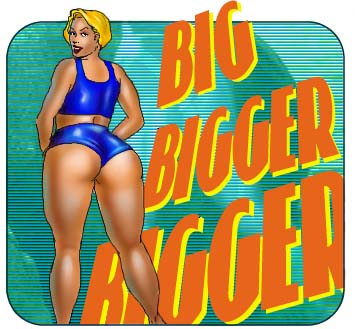 Welcome to Phat Bottoms!
What is this?
When it comes to women's size, average just isn't enough for some of us. Some of us want bigger than average..much bigger. That's what Phat Bottoms is all about. If you're looking for tree trunk thighs, gigantic calves, unreal butts, and super wide waists, then look no further.
You'll a variety of artwork here from stuffed athletic babes to overweight schoolgirls to growing gymnasts. Stories, discussions, and sightings are also included and submissions are encouraged. So grab your mouse and start browsing because there's always something big happening at Phat Bottoms.
Update 5/06/2001
New guest art from Chief LongSpear, SketchVG and a story from Nomdreserv. Morphs and artwork by me, and more story frameworks.
Make sure you check out #Phat_Bottoms on DALNet IRC chat too!